Questions regarding two bluffs and how I could have played better. Thanks!
tofushit888
Red Chipper
Posts: 3
✭✭
Hey guys! I have some questions regarding 2 hands that I played during an online session. Welcome any inputs / thoughts. These hands are also recorded in my latest pokervlog, feel free to check them out according to the time stamps below.
Video Link: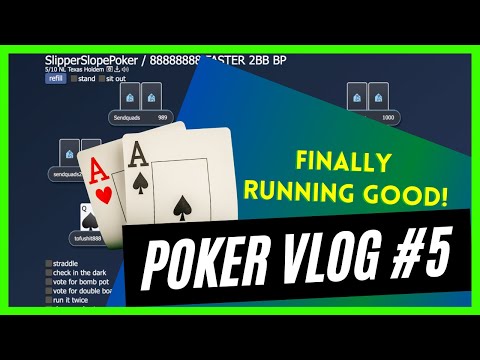 Blinds: HKD 5/10 (USD0.65 / 1.30)
Hand 1 (1:10 – 2:45). Stack sizes of 100-120BB
I have KcQd in the HJ position. UTG raises to 30. I was thinking of 3-betting here but ended up just flat calling. CO, button and the blinds all call…
Flop comes 2h-Jh-10c. Blinds checks and UTG checks, I check and CO/button both check.
Turn comes 6d. Blinds check. Now UTG leads out with 123. His bet seemed weird to me as any over pair or AJ or sets should bet the flop given multi-way action. So I thought I can put some pressure on him and I raised to 265 (Looking back this raise size was way too small and was definitely a mistake…). Folds backs to UTG, who then calls.
River comes 8s. UTG checks and I continue my bluff with a bet of 361. He has around 700 behind, and tanks, but ends up calling with QJ of clubs.
Question 1:
Assuming I raised bigger on the turn and jammed on the river, is that a good bluff line to take?
Question 2:
With KQ offsuit in HJ in a 100-120BB game, should I have 3-bet vs UTG preflop? By flat calling, I invited 4 extra players into the hand.
Hand 2 (10:53 – 11:54). Larger stack sizes of 200-300BB
I have 6-8 of spades in the SB position. UTG limps in for 10 and +1 raises to 40. I call, BB folds and UTG calls.
Flop comes 7s-4d-9h with one spade. I thought this is a really good flop for me to check raise with as I can continue to barrel on the turn if any spades, 10s or 5s come out. So I check, and interestingly UTG donks out with 62, and +1 folds. I stuck with my original plan and check-raised to 218, which UTG snap calls…
Turn comes a 8 of heart, which is a bit of an awkward card for me as now I pick up a pair of 8. I check and UTG checks.
Turn comes a J of clubs. I check again, and UTG checks as well and shows As-9d for the winner.
Question:
With the 8 of heart on the turn, should I have continued to bet big instead of checking? Looking back, checking looked like the wrong move…
That's all my questions for now. Thanks a lot!
Tagged:
Leave a Comment